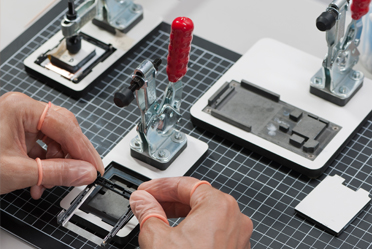 Hand assembly of the wraparound ceramic, screen and chassis, using micro-tools specially created for the assembly of the Æ+Y phone.
The micro-tools are critical to allowing high mechanical tolerances to be achieved, so that the lines where different parts and materials meet on the phone are seamless and line up perfectly.
The Æ+Y's engineers spent months perfecting, tuning and fine-tuning the micro-tools.