Do you qualify as a student? If yes, then this article can come to your benefit for sure. So, have you heard about the Spotify student discount? Students have a hell of lot of perks when it comes to discount benefits. And that's why the Spotify premium discount is worth giving a shot. As we know how annoying ads can be, they interrupt our musical journey. And with the premium subscription, you can easily get rid of it.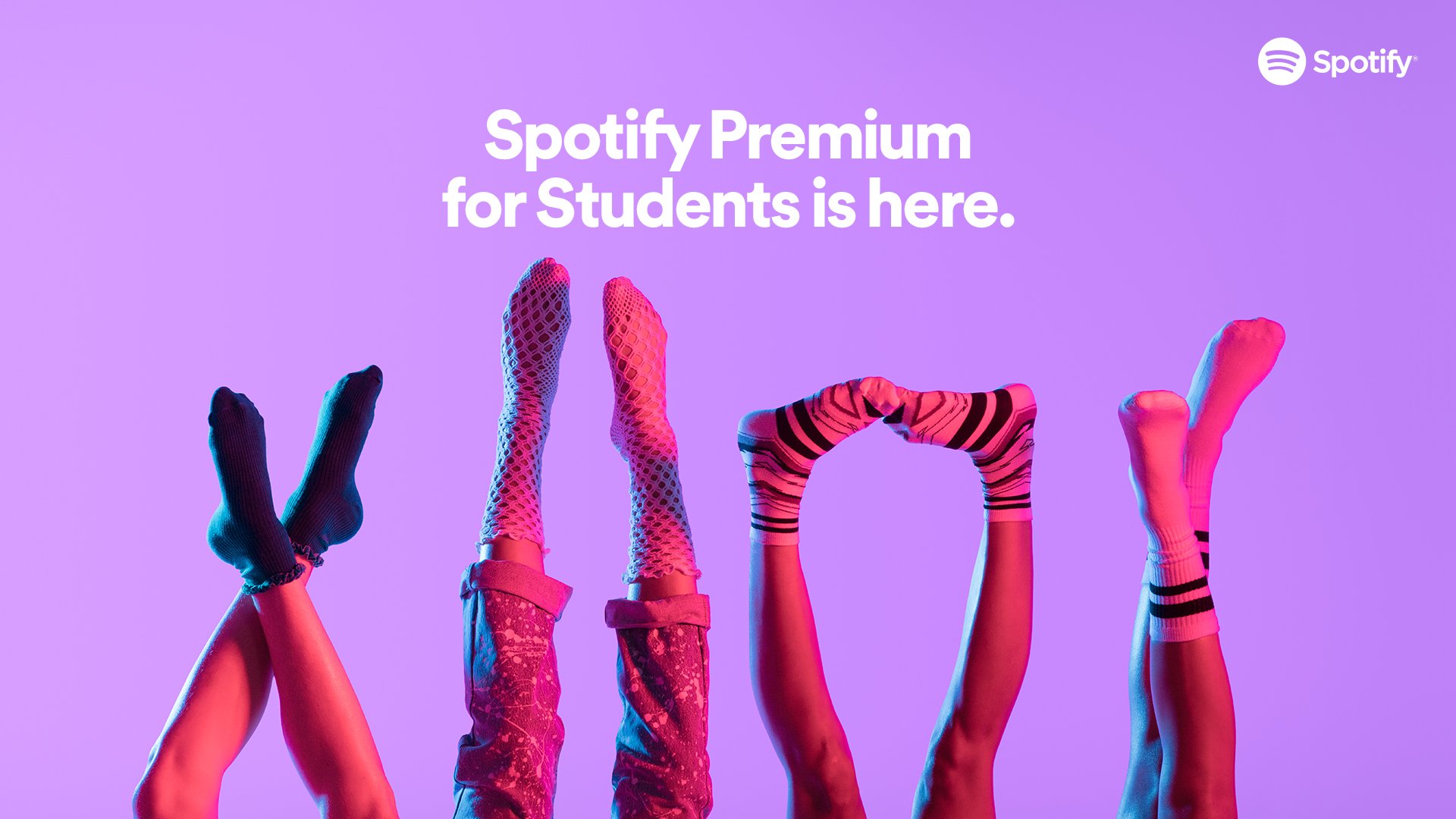 Hence, without wasting your precious time. Let's get to the actual point. In this blog post, you will learn some amazing facts about the student discounts offered by Spotify. The features, cost, and how to get your hands on the student discount. We will be getting to each section one by one. So, let's get started with it.
Spotify Student Discount
Spotify is a music streaming app. It has a vast range of songs that can count up to 50 million. And no doubt it is the best music apps available. It is quite easy to use. Here, you are free to listen to your favorite songs, podcasts, and regional music as well. However, the ad breaks are enough to annoy their users. Hence, Spotify offers premium subscriptions that include some extra benefits.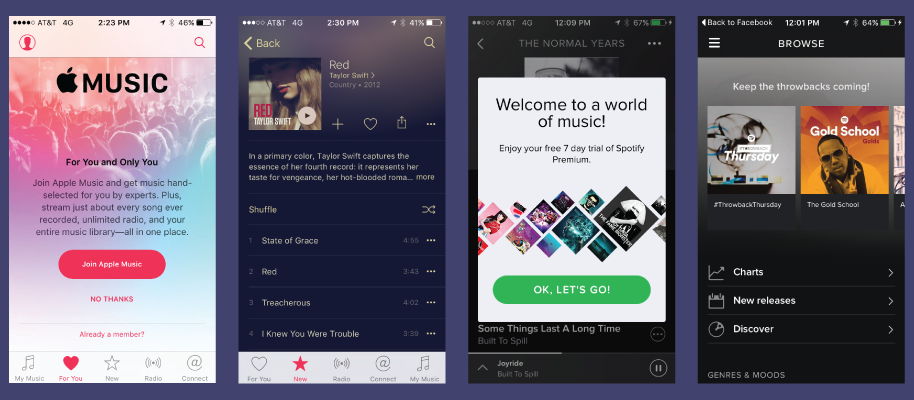 And for students, Spotify offers a huge benefit in terms of Spotify student discounts. Even so, the offers are always available. Very few actually know about its existence. So, what are the features of student discounts offered by Spotify? Continue to the next section to know about it.
What Is The Eligibility Criteria?
It is mandatory to be 18 years or above to qualify for the student discount offered by Spotify. Also, it is necessary to be a student of US title IV accredited college or university. Hence, it is easy to classify if you are actually eligible for the student discount or not.
Moreover, the students with 4 years of university and other institutions with US title IV can also opt for this offer. If you are not sure about your college being a part of this criteria, go to Federal student aid to check your college status.

If you have been using Spotify before getting into college, then you don't need to worry. Once you enroll yourself in a qualified college, you can opt for the student discount from your next renewal.
What Benefits Do You Get With It?
The student discount mainly focuses on providing the student with its best support. That too at the lowest cost possible. And right now, Spotify is offering a discount of 50% on their premium subscription. So, the moment you register yourself for the student discount, you are free to enjoy its premium features. These features include offline music, downloading your favorite songs, ad-free music, and much more.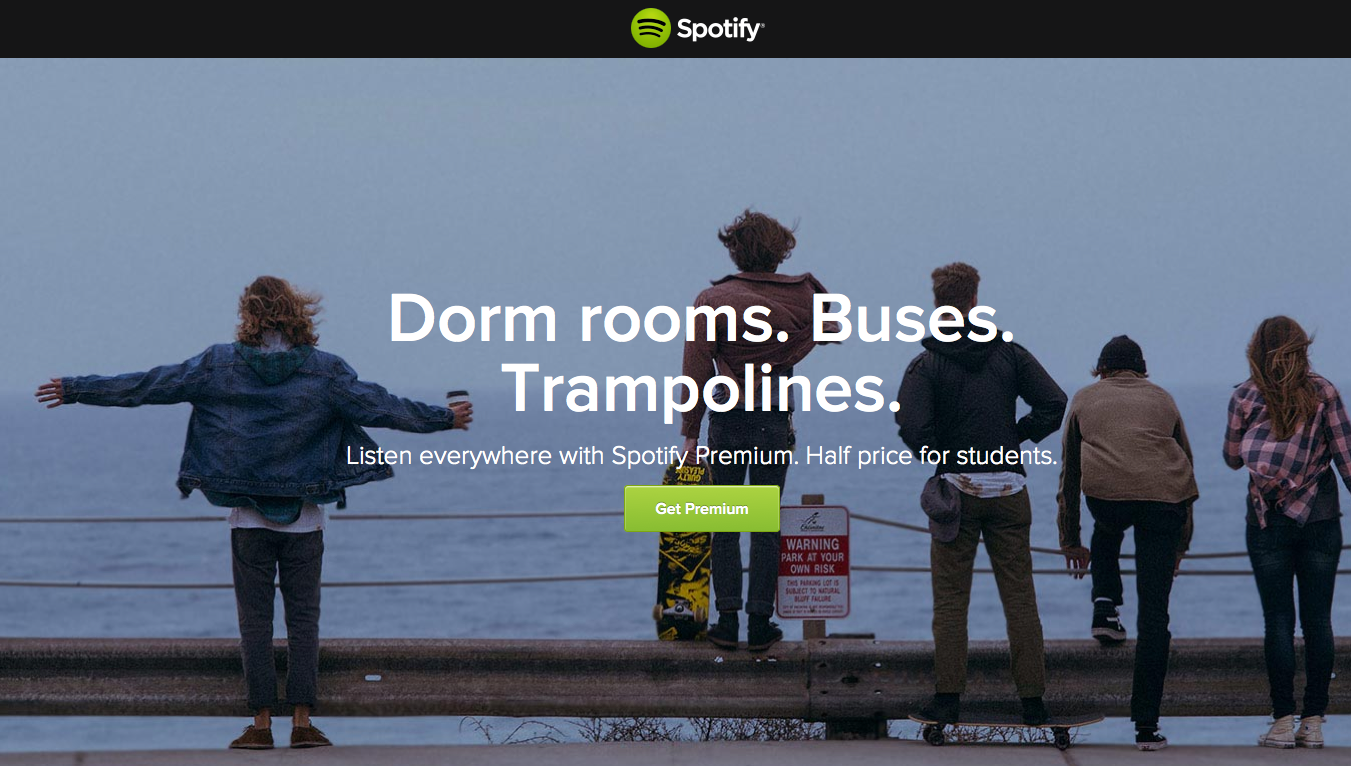 Also at the present moment, if you opt for the current offers available on Spotify, then you get the extra benefit of movie streaming sites such as Hulu and Showtime as well. And that too, without any extra charges.
How Much Does It Cost?
If you are wondering whether it is worth spending on Spotify after applying the student discount. Then let me be honest with you. The Spotify let alone cost you around $9.99/month for its ad-free premium services.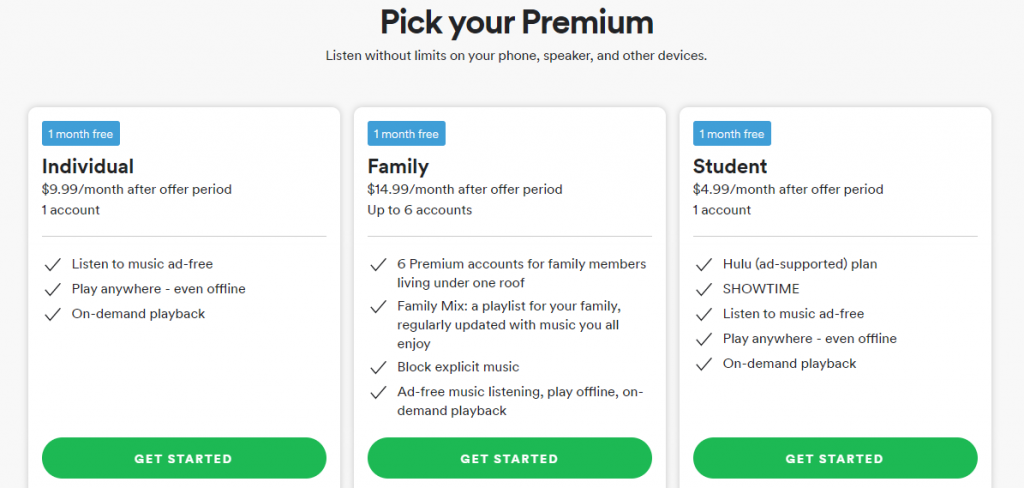 And when you apply through the student discount. The cost gets reduced to $4.99/ month for the premium subscription. On top of that, you get Hulu(with ad) and Showtime subscription as well. And that you can say is the cherry on the top, my friend. So, are still confused to get yourself a Spotify premium. I would say just go for it.
How To Claim The Spotify Student Discount?
It is not a tough task to claim the student discount offered by Spotify. First of all, you need to be eligible for the premium discount offer. And secondly, you need to get yourself registered with the SheerID verification on Spotify. The SheerID will help you with the identification process. Hence, it is necessary to have a SheerID.
So, now let's learn the methods involved to claim the student discount for Spotify.
Open the Chrome browser, search for the Spotify premium student page or Click Here to get to the page directly.
Now, on the homepage, go for the Get Started tab on the left-hand side of the screen.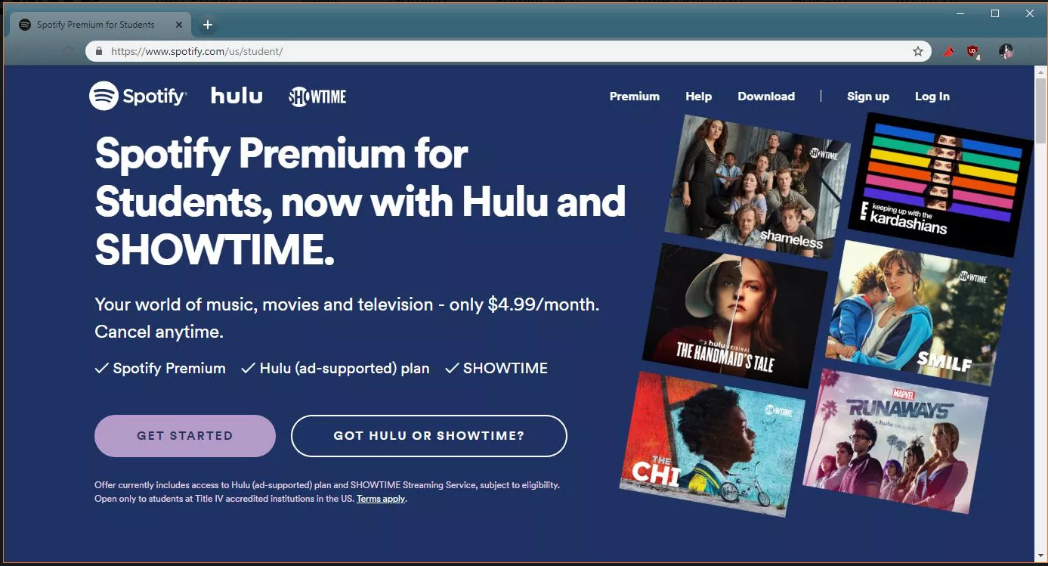 Click on the Sign Up for Spotify, if you are a new member. Existing members can directly sign in to their accounts through email ID or Facebook.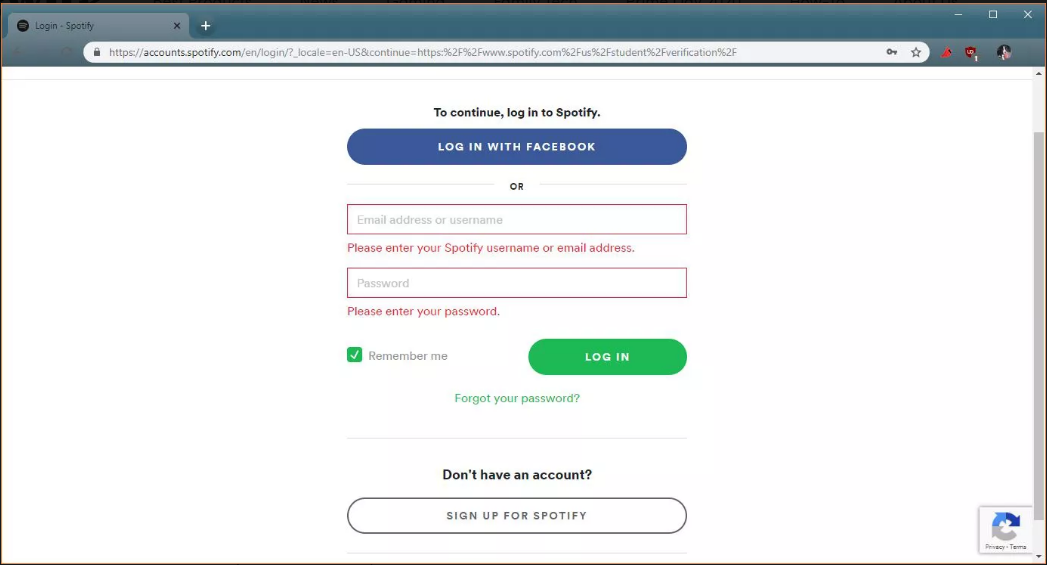 Once you have completed the sign-up process, fill in the information on the given screen as per the requirement. Now, click Verify.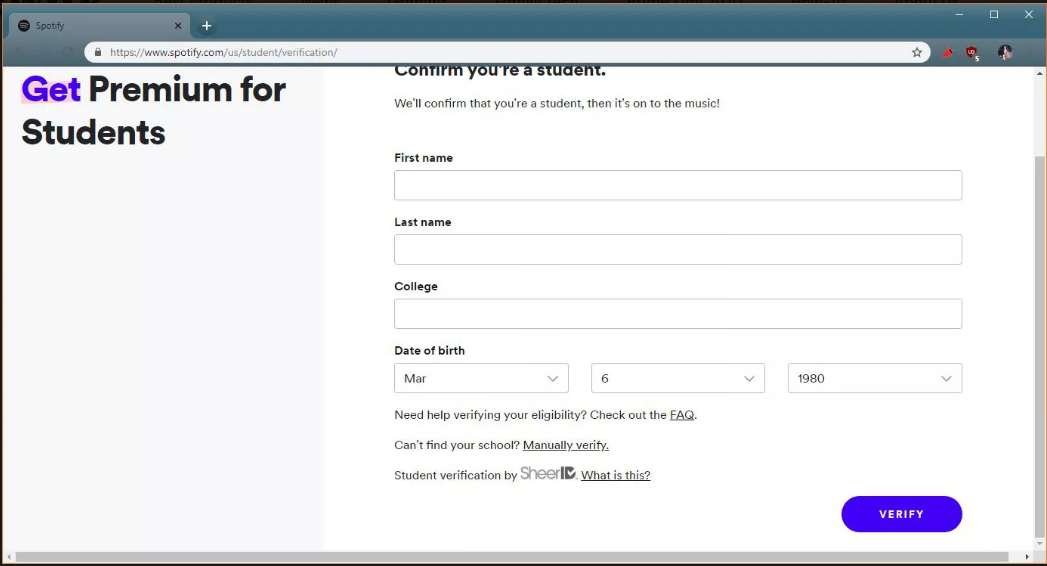 The Spotify seeks the verification through your SheerID and if the SheerID is automatically able to confirm that you are a student. Then it will lead you to the billing process.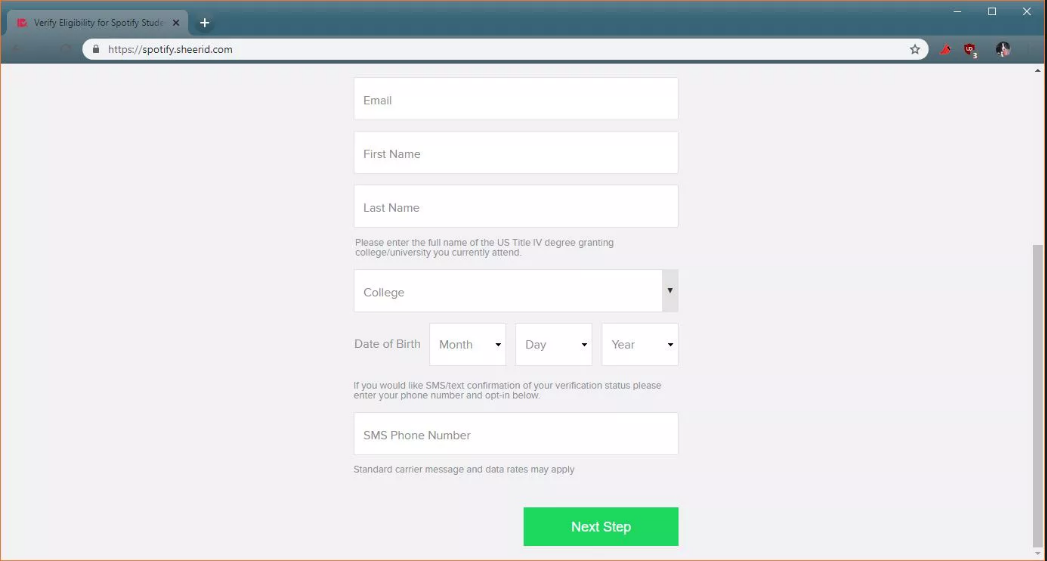 Complete the billing process by filling in the card details.
Therefore, you have successfully claimed your Spotify student discount. The process involves the auto-verification process. So, by any chance, if the verification process fails then you manually enter your data. The manual procedure will require you to upload the document as proof that you qualify as a student.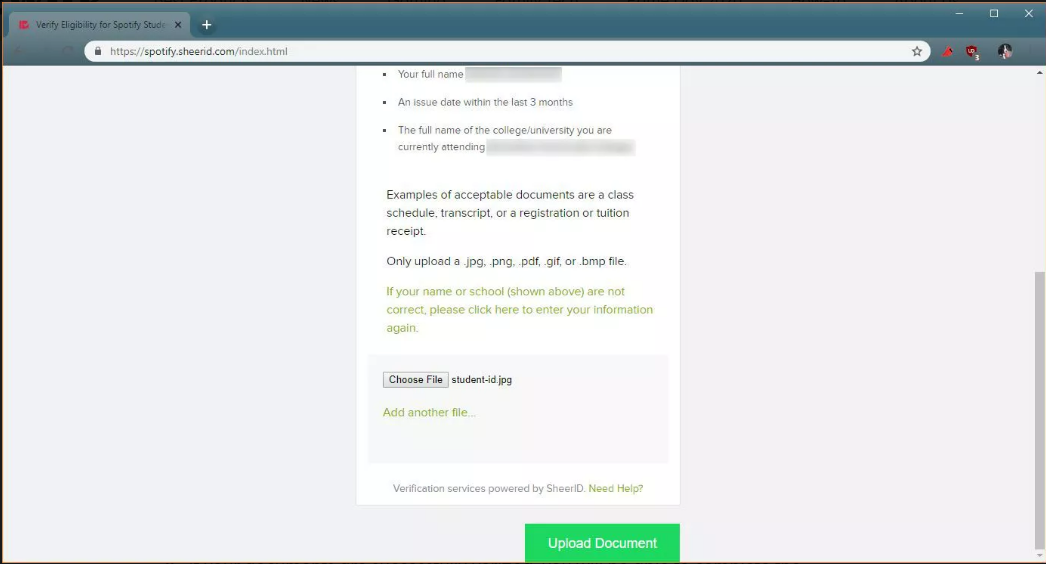 And hence, this is the very last step to get yourself registered to Spotify premium. So, follow the method as mentioned above to get an accurate result.
Final Words
And here we end this article. We assure you that the information given in today's post is more than enough to solve all your queries. The Spotify student discount is basically styled for students' benefit. Hence, take the leverage to use it to the fullest while you are at your college. And, guys it's worth it. So, go grab one today without any hesitation.