You bought a game from steam whose trailer and graphics appeared exciting enough. However, after playing the game for 10 minutes you realized how different it is from what you thought. Now you want your money back, and the good news is that you can refund a game on steam. In fact, the refund policy of steam applies to nearly all the games which one purchases. So, stick on and we are going to tell you step-by-step how you are going to refund a game on steam.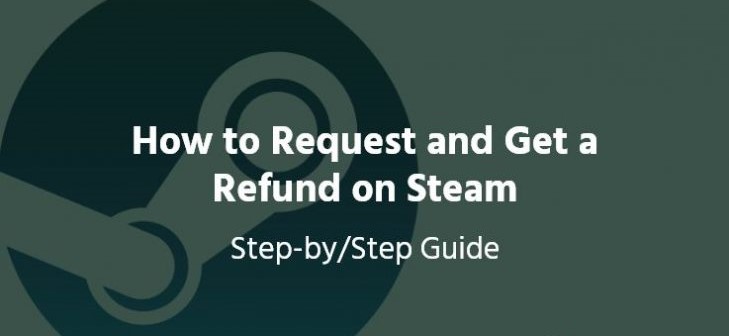 What Is The Steam Refund Policy?
Steam has a very generous game refund policy where one can get a refund on nearly any game that he purchased. However, obviously, there are certain criteria to get a refund of the game. The two criteria are mentioned below, check it out and see whether you can get a refund on steam or not.
You must request a refund within the 14 days of purchase or the 14 days of the release of the game if it was a pre-order.
The game must have been played for less than two hours.
However, if you don't fulfill any of these two criteria, you can still request a refund from steam. They will manually review your case and do it accordingly. Though they are under no obligation to give you a refund. So give as detailed an explanation as possible.
Why You Can Refund the Game?
What makes a person refund the game he/she bought? It can be any personal reason or due to the game's graphics or your desktop's RAM or capability. Here are some common reason as to why a person might want to refund the game on steam:
The game bought does not meet PC system requirements.
Bought it by accident.
Played for some time and didn't like the game.
The game has gameplay problems and is not as it was expected.
Not so good graphics.
How to Refund a Game on Steam?
We hope till now you understand who can refund the game and for what various reasons could be for someone to refund the game on steam. And if your game was purchased less than 14 days ago and you've played it for less than two hours, you're guaranteed a refund. Now let's get going with the step-by-step instructions as to how you can refund a game on steam:
Step 1: Go to Steam Help and log in with your Steam account ID and password.
Step 2: After you log in into your account, click on 'A Purchase' tab, as given below in the image.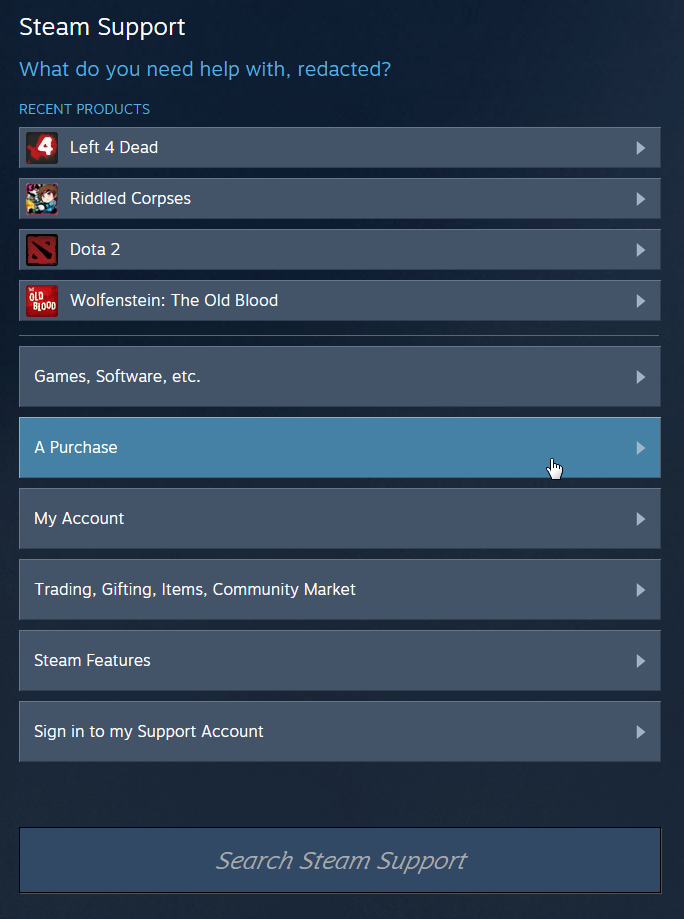 Step 3: Find the game in the given list which you have purchased and now which you would like to refund. Then select it by clicking on the tab.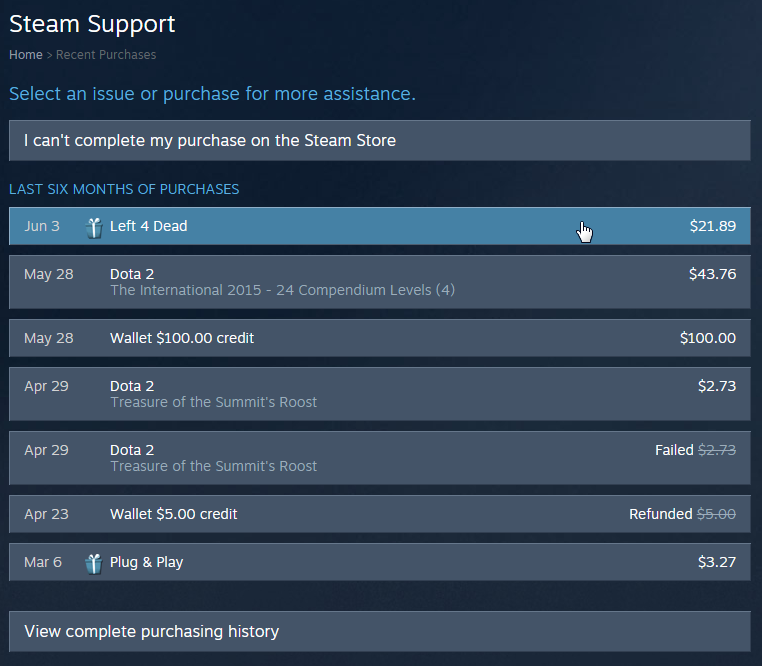 Step 4:Now there are various problems already listed in their menu. You can select among the given problems, as what problem you are having with your purchase.
Step 5: Next, click on I'd like to request a refund tab.
Step 6: Click on the drop-down menu button to select the steam wallet or original payment method.

Step 7: Fill in the notes sectioned and click on submit.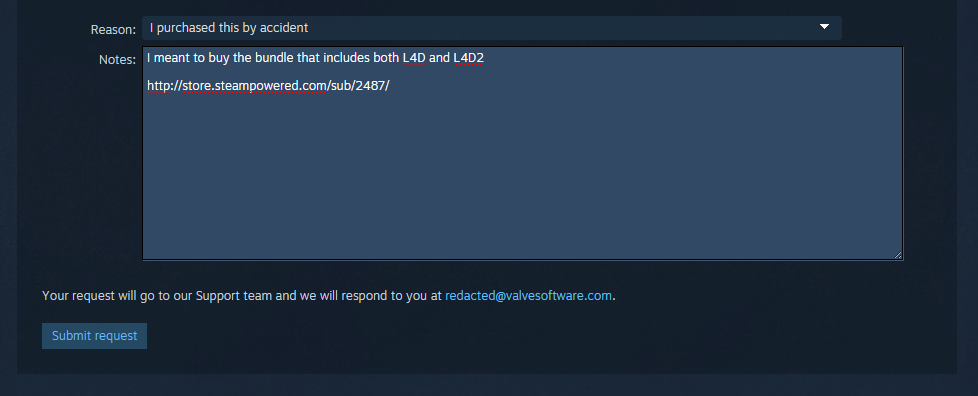 Step 8: Once you click on the 'submit request' button you will receive a confirmation mail that your request was successfully submitted.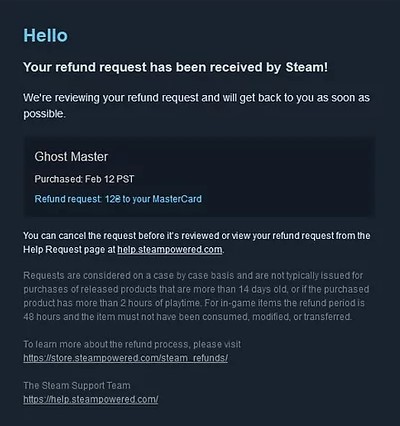 2. Waiting For A Response
After submitting the request, the work is half done. Now the Steam Support will look into your request and verify whether your request is genuine ant it fulfills all the conditions or not. So below is the given process which you need to follow once you have submitted the request to refund the game on steam.
Step 1: Once you get the confirmation of the received request, wait for a week to hear back about your refund. While some refunds are processed quickly, some payments take time. So, be patient.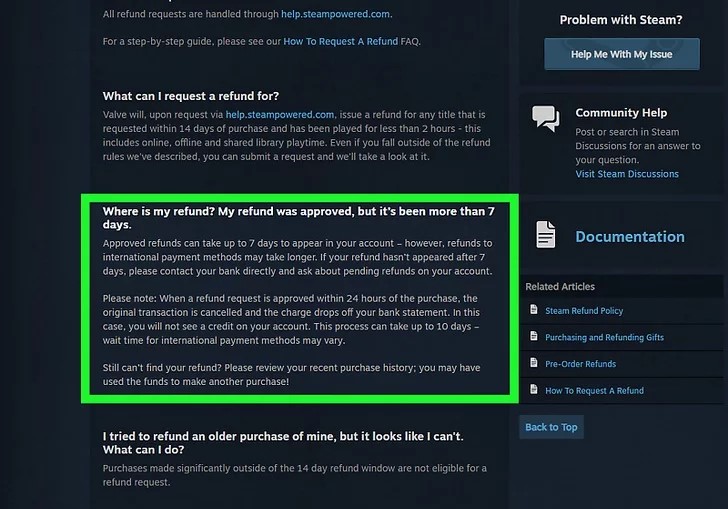 Step 2: If you get a confirmation that your refund request is approved, keep a check on your bank account, as the money will be credited in few days.
Step 3: If your request for a refund was not approved for some reason then request an appeal. Simply put another reason in it, and maybe they will change their mind this time.
Final Words
Earlier steam used to have a comparatively slow process for refunding. But with time they have improved and you can expect a refund within seven to ten days. They have a very genuine refund policy and they even consider some exceptional case where their given conditions are not fulfilled but the case is genuine. So we hope you have followed all the process and till now you have understood how you can refund a game on steam. In case of any query related to the 'refund a game on steam, you can ask us in the comment section below and we will get back to you soon.