MI account is a personal account for people who use Xiaomi products. However, sometimes a lot of people owning Xiaomi smartphones tend to lose the password of their MI account, making various features inaccessible. Here the MI Account Unlock Tool comes in handy. So in this article, we are going to talk about how with the help of the MI Account Unlock Tool you can reset the MI account password and solve your problem. So without wasting any more time, let's move forward to see how you can reset it.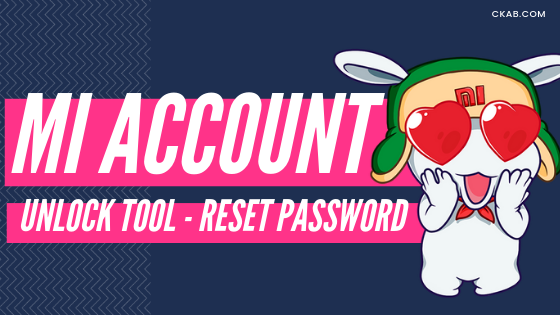 What Is MI Account Unlock Tool?
We will begin from the very start and first I'll tell you what MI Account Unlock Tool is actually is and how can it be a saving tool at difficult times. It is a tool that is used to remove or Bypass Mi Cloud verification when one forgets his Mi Account Login & Password. By using this tool you can easily bypass Mi Account or Disable Account. The tool is officially provided by Xiaomi, so one doesn't need to worry about its safety.
The tool offers two services:
Bypass MI cloud verification.
Disable the MI account.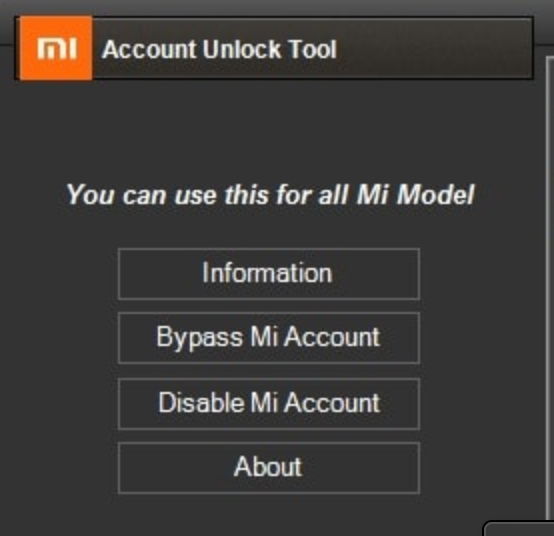 1. Compatibility
The MI Account Unlock tool is compatible with Windows, with its versions of Windows XP, Windows 7, Windows 8/8.1, and Windows 10. So you cannot use it on any operating system such as Mac or Linux. So you can use it only on a PC with Windows as its operating system. You will also need a USB cable to connect the MI phone with the PC.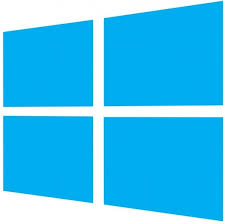 How To Download MI Unlock Tool?
Xiaomi provided the latest version of this tool in 2020. Here's the download link for the tool:
The downloaded file will be in ZIP format. So an extraction software will be required for your PC like WinZip to extract the file.
However it is suggested to use only the latest version, but if you have an old model of the MI phone like Redmi 1S or Redmi 2, then the latest version will fail to help you. In that case, the older version of the tool will come in handy. Here's the link to download it:
How To Bypass Using MI Account Unlock Tool?
Now that we are aware of all the basics as to what is MI Account Unlock Tool, it's time to know how we can use it to bypass MI cloud verification. Here is the step-wise guide to bypass:
Step 1: Download the Mi Account Unlock Tool from the link mentioned above.
Step 2: Extract the downloaded ZIP file to a folder on your PC.

Step 3: Now run the extracted file as administrator.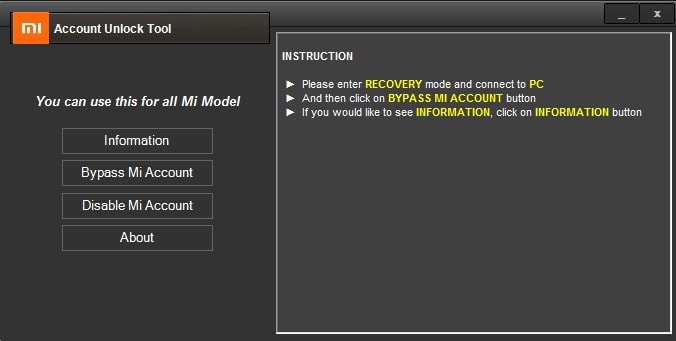 Step 4: The next step involves booting your MI device in recovery mode. To boot in recovery mode press and hold the power button and upper volume button together.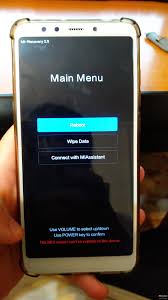 Step 5: Connect the device to your PC using a USB cable.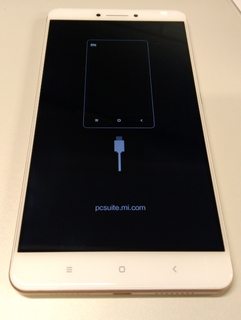 Step 6: Go to the toolkit again and click on 'information to ensure that your device is connected successfully. If you are unable in seeing the 'Information' option as given below then that means your device is not connected properly. Try to reconnect and check again.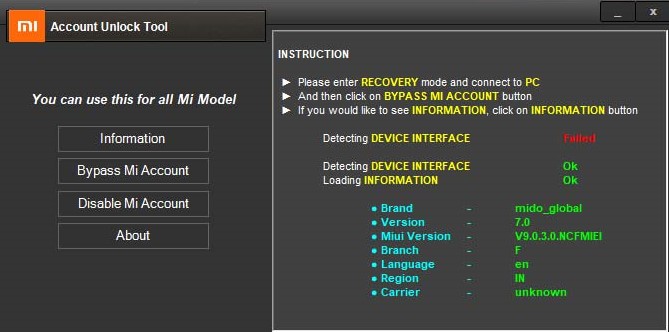 Step 7: When successfully connecting the device go to the tool and click on Bypass MI Account.
Step 8: Follow the instructions carefully given on the screen.
And similarly, you can opt to disable your MI Account. So you have two options to choose from. If you remember the exact MI Login ID then you can click on the 'Forgot Password option'. And in case you don't remember the exact ID then you need to bypass the MI account or disable the account from the aforementioned steps.
Final Words
Now that you know how to download and use the tool to suit your purpose, you can use the features which were not available when you forgot your MI Account ID and password. So hopefully you have unlocked your MI Account with the help of this article. And in case of any doubt and suggestions, do tell us in the comment section below.