Have a cute post ready for your Instagram but no perfect caption to go with? Well, I agree it is quite troublesome!! Choosing perfect Instagram captions and hashtags to highlight your picture is a tough task. However, we would like to help you a little. Be it a cute, funny Instagram caption or a perfect song lyrics that you are looking for. There is one or the other thing on this blog post that will definitely match your taste.
So, forget everything and do skip the habit of using one-word captions or no captions from now on. Give more to your followers by adding up your mood in the captions with the ideas in this blog for any situation life throws at you!!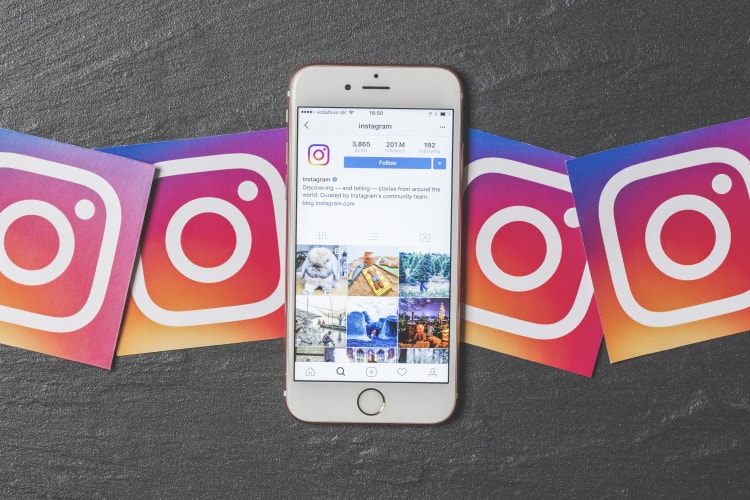 500 Best Instagram Captions 2021
Instagram has been in trend for sharing your life story among your friends. What started as a picture-sharing app has now been the best place to engage and interact with other users from across the world. So, be it a vacation picture or a selfie that you adore, Instagram captions provide an insight into the story of the post. So, let's begin with some best captions for Instagram.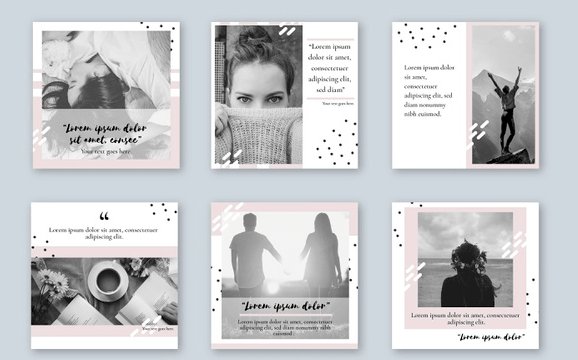 Behind every successful person is a substantial amount of coffee.
Better an oops than a what if.
If you are going to rise you might as well shine.
Start your morning with a smile.
The one who seeks shall find.
Chilling like a gangster. Gangsters wear pyjamas too, right?
When Instagram was down, I ran around town shouting "like" at flowers, dogs, and expensive brunches.
Life happens, coffee helps.
Do whatever makes you happiest.
Maybe I am born with it. Maybe it's caffeine.
Friday, my second favorite F word.
Hella fine and it works every time.
Don't be like the rest of them, darling.  And also don't be like me… that's my job.
Be a good person but don't try to prove it.
Don't grow up… It's a trap!
I'm being nice to you. Have I stabbed you? No.
Be a pineapple: stand tall, wear a crown, and be sweet on the inside.
Sunshine mixed with a little hurricane.
People will stare. Make it worth their while.
Always classy never trashy and a little bit sassy.
The kinder you are, the more you get hurt. The wilder you are, the more you will get love.
Who cares? I'm AWESOME in Black and White.
Be a cupcake in a world of muffins.
Dress as if Enemies are everywhere.
I used to think I was indecisive, but now I am not so sure.
1. Clever Captions For Your Instagram Post
An apt quote combined with a stunning photograph or a landscape can instantly make your Instagram feed more attractive to your followers. Therefore, check out these clever captions that offer a fair deal of wisdom among your group.
Also Read: Best Instagram Usernames: 300+ Funny & Unique Ideas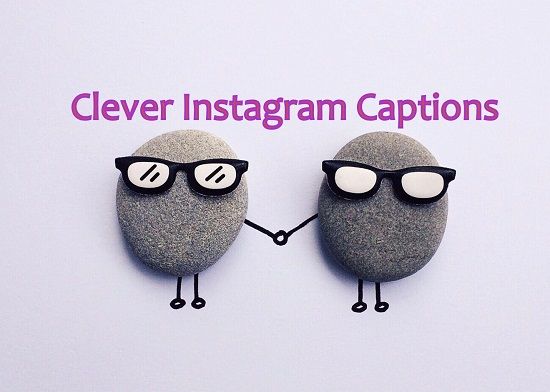 Hear about the new restaurant called Karma? There's no menu: You get what you deserve.
Having a soft heart in a cruel world is courage, not weakness.
I literally have to remind myself all the time that being afraid of things going wrong isn't the way to make things go right.
Do more things that make you forget to check your phone.
Never Give Up On Accepting Changes. There Will Always Be a Way To Make Everyday Better.
I Have Attitudes, and I Know How To Use Them.
When people Disrespect You, Confront Them Immediately.
The idea is to die young . . . as late as possible.
Keep smiling because life is a beautiful thing. Besides, most people find smiles suspicious.
Chilling like a gangster. Gangsters wear pyjamas too, right?
Don't be like the rest of them, darling.  And also don't be like me… that's my job.
You never run out of things that can go wrong.
If only Cher had really discovered how to turn back time…
Weekend, please don't leave me.
I'll never try to fit in. I was born to STAND OUT!
"When nothing goes right, go left. If practice makes perfect, and no one's perfect, then why practice?" —Billy Corgan.
That moment when you realize your childhood is over.
Common sense is like deodorant. The people who need it most never use it!
I hate it when I'm singing a song and the artist gets the words wrong.
Life is not a problem to be solved, but a reality to be experienced.
I realize now that dying is easy. Living is hard.
Like me for who I am and not for who you want me to be. Take it or leave it. That simple.
I'm a multi-tasking procrastinator. I can put off multiple things at once.
Change 'ONE DAY' into 'TODAY'.
A woman can do most of the manly tasks but vice-versa is NOT applicable!
2. Cute Captions To Use For Friends And BFFs
What can be the best way than Instagram to shower your love among your best friends? An appreciation captions for your best friend will make them feel loved and valued for sure.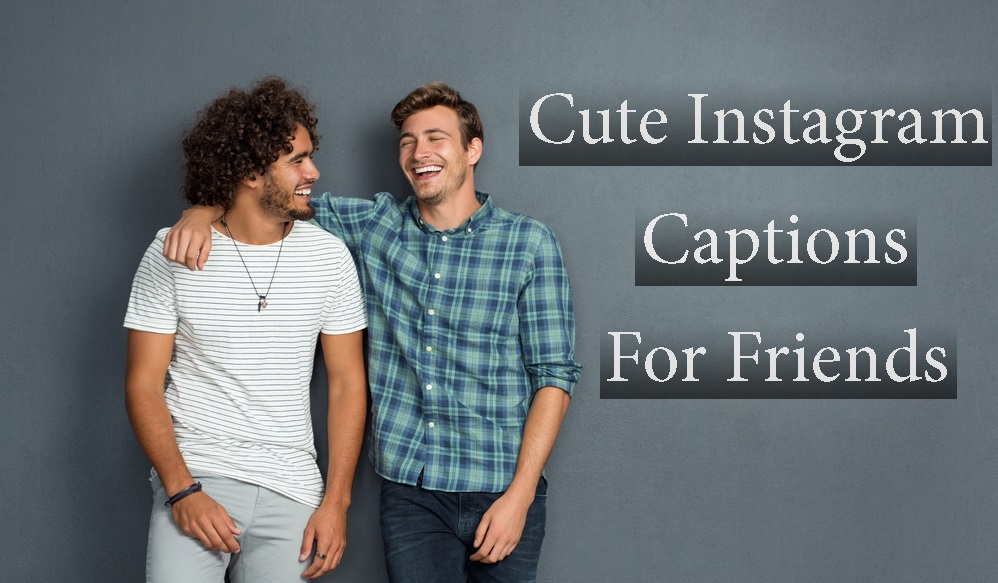 Girls night every night.
We go together like coffee & donuts.
The only way to have a friend is to be one. —Ralph Waldo Emerson
Good Times + Crazy Friends = Great Memories!
Hoes before bros.
You're the only one who can call me out on my flaws.
You're the Betty to my Veronica (or vice versa)
Making memories with you is my favorite thing to do
Very pretty and we sure know how to run things.
1 universe, 9 planets, 204 countries, 809 islands, 7 seas. And I had the privilege of meeting you.
A journey is best measured in friends, rather than miles.
You don't even need to ask, I got you.
I like myself better when i'm with you
Living for the moments we can't put into words
I'm only one call away.
A friend can always make you smile, especially when you don't want to…
It takes a long time to grow an old friend. – John Leonard
A good friend does not let you do the stupid things… alone!
A best friend is like your favorite bra: supportive, comfortable, hard to find, and close to your heart.
Thanks for doing all the stupid things with me.
"Friends are the family we choose for ourselves."
As soon as I saw you I knew a grand adventure was about to happen.
As your best friend I'll always pick you up when you fall, after I finish laughing.
Friends are like stars, constantly coming and going, but the ones that stay burn as bright as the sun
A good friend might know your wild stories but your best friend was right there with you.
3. Some More Friends Quote
Friends are the most beautiful part of your journey. And there can never be an end to its quotes. And hence, here are few more quotes that you can use as an Instagram caption for your post.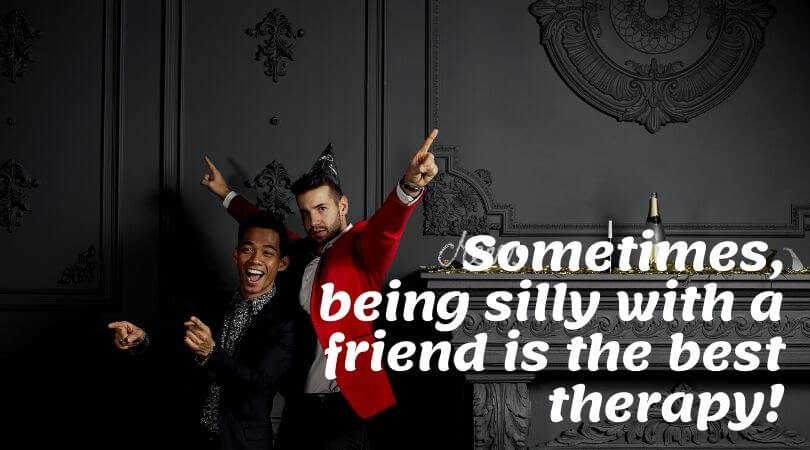 Laughing at random things. Partying 'til the sunrise. There's no one else I'd want by my side. Love ya!
F.R.I.E.N.D.S. Fight for you. Respect you. Include you. Encourage you. Need you. Deserve you. Stand by you.
Friendship isn't a big thing. It's a million little things.
Sister from another mother.
Best friends are like diamonds. They're forever.
Some people arrive and make such a beautiful impact on your life, you can barely remember what life was like without them."
A good friend might know your wild stories, but your best friend was right there with you.
Hold onto your best friend because you'll never find someone like them again.
We do a thing called what we want.
Friends are like rainbows, always there to cheer you up after a storm.
Side by side or miles apart real friends are always close to the heart.
Love is beautiful, friendship is better.
Meet my Partner in Crime!
Anything is possible when you have the right people there to support you.—Misty Copeland
Find someone who brings out the best in you.
In the cookie of life, friends are the chocolate chips.
Back in the old days my best friend why quiet and shy. I turned her into a monster. ?
A best friend will love you when you're too sad to love yourself.
Your crowd should be clapping loudest when you win. If they don't, look for a new crowd.
Pay close attention to people who don't clap when you win.
I don't know what's tighter, our jeans or our friendship.
You don't have to be crazy to hang out with me… I'll train you.
Life's too short and so are we.
Life is better with true friends.
"I would rather walk with a friend in the dark than alone in the light." —Helen Kelle
4. Captions For Selfies, Selfie Quotes
Selfies are love!! And if you are searching for stunning captions for your selfie post, trust me this roll of the caption is indeed made for you. So, go and steal the thunder by using some best and witty Selfie captions mentioned below.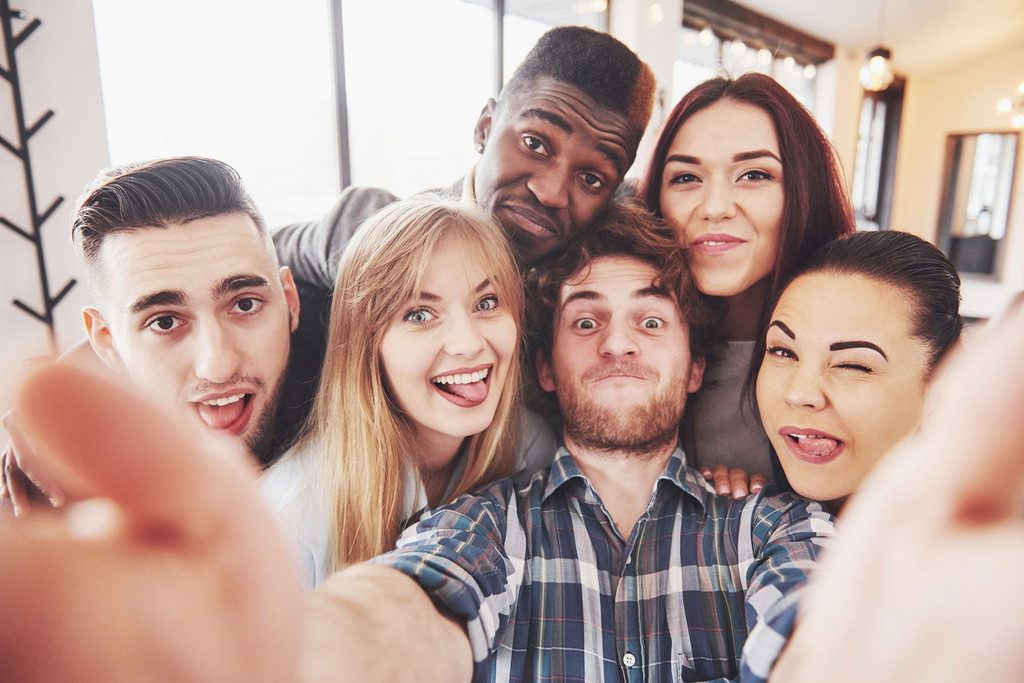 In a world full of trends, I want to remain a classic.
Eyes are never quiet.
Perfectly imperfect!!
On to better things.
Always learn to stand on your own two feet or watch how you will crawl forever.
The world is full of magic things, patiently waiting for our senses to grow sharper." — W.B. Yeats
Don't let your eyes be blinded by her beauty.
Hating me doesn't make you pretty.
No ounce of insecurity here.
Here I am just looking like a flower!!
Catch flights, not feelings.
Chocolate is cheaper than therapy.
But, first, let me take a selfie.
I was born to shine…and take selfies!
What do you think of this look?
Best. Selfie. Ever.
Cinderella never asked for a prince.
It's sexy time.
It's so beautiful when a boy smiles.
Happier than a seagull with a french fries.
Proof that I can do selfies better than you.
Stress doesn't really go with my outfit.
Always classy, never trashy, and a little bit sassy.
I am working on myself, for myself, and by myself.
In terms of looks, I'm second to none.
Too glam to give a damn.
Self-love is just as important as any other type of love.
Look at me now.
Reality called, so I hung up.
All the feels!!
Know your worth.
Just me!!
Dare to be a donut in a world of plain bagels.
I walk around like everything is fine, but deep down, inside my shoe, my sock is sliding off.
Stay crazy.
Mentally at the beach.
We are all a mess, but it's how we keep it together that makes us beautiful." —J. Iron Word
Look alive.
I myself am made entirely of flaws, stitched together with good intentions." — Augusten Burroughs
Decluttering my life like Marie Kondo.
Get out there and live a little.
No bad feelings.
Aloha!!
To be old and wise, you must first be young and stupid.
My time is now.
I don't know where I'm going, but I'm on my way.
Smile a little more, regret a little less.
Be a stiletto in a room full of flats.
Never love anyone who treats you like you're ordinary.
The way you speak to yourself matters the most.
5. Selfie Quotes As A Instagram Caption
Without a good caption, your selfie might look awkward and incomplete. So, let's dive deep into some more amazing Selfie quotes that you can use as your caption.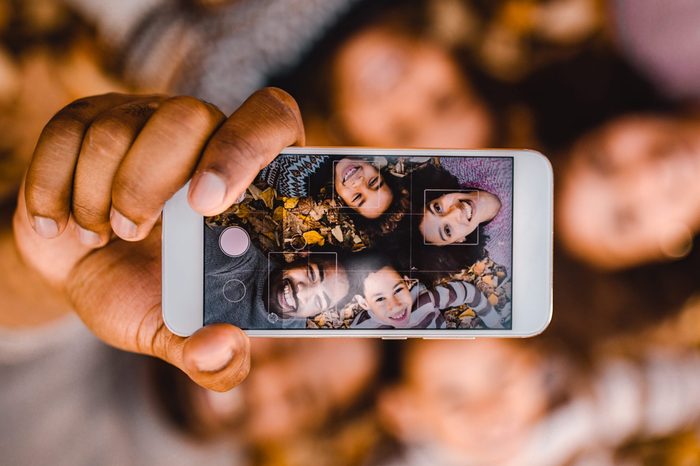 Every little thing is gonna be alright! – Bob Marley
Throw sass around like confetti.
All you need is love. – John Lennon
I am beautiful, no matter what they say. Words can't bring me down. – Christina Aguilera
Seek respect, not attention. It lasts longer.
A little contour and confidence.
Gonna love myself, no, I don't need anybody else. – Hailee Steinfeld
Find me where the wild things are. – Alessia Cara
Elegance is the only beauty that never fades.
Confidence Level: Selfie with no filter.
I know looks aren't everything, but I have them just in case.
Morning coffee, because anything else is worthless.
I can show you the world.
We ain't picture perfect but we worth the picture still.– J. Col
Some call it arrogant I call it confidence.– Beyoncé
If I fall for you, would you fall too?– Ed Sheeran
Being happy never goes out of style.
Sunshine mixed with a little hurricane.
Cheers, my dears!
Believe in your #selfie.
I decide the vibe.
Fall in love with moments.
I don't always take a selfie, but when I do…
Mirror mirror on the wall, I'll always get up after I fall, and whether I run, walk or crawl, I'll set my goals and achieve them all.
Coffee and confidence.
Grow through what you go through.
Fresh out of the shower, no makeup on.
May your coffee be hot and your eyeliner even.
I'm not weird; I'm a Limited Edition!
I just want somebody who will not stop choosing me.
Whatever is good for your soul, do that.
I woke up like this.
Escape the ordinary.
Let it hurt and then let it go.
Be happy, it drives people crazy.
All I really need is a passport.
Today I will be as useless as the 'g' in lasagna.
There is no such thing as a perfect person, but someone's heart can have a perfect intention.
You can't live a full life on an empty stomach.
I'm not high maintenance, you're just low effort."
Get out there and live a little.
Less perfection, more authenticity.
Maybe she's born with it.
You never know what you have until you have cleaned your house.
At least my pizza still loves me.
It's not a phase mom, it's who I am.
Another fine day ruined by responsibilities.
If I was funny, I would have a good Instagram caption.
Sure, I do marathons. On Netflix.
My bed is a magical place I suddenly remember everything I had to do.
Vodka may not be the answer but it's worth a shot.
If there would be an award for being lazy, I would send someone to pick it up for me.
Some beautiful paths can't be discovered without getting lost.
She was simple like quantum physics.
Life isn't perfect but my outfit is!!
Keep your heels, head, and standards high.
Some days you just have to create your own sunshine.
I don't need your approval to be me.
Things I used to trip on, I walk over now.
Why chase you when I'm the catch.
6. Best Lyrics Captions For Selfies
Songs lyrics are best when you are trying to search for selfie captions. It helps you avoid the struggle of writing a perfect caption. So, the next time you listen to your favorite songs, take a quick look at the lyrics. Or you can simply check this list out!!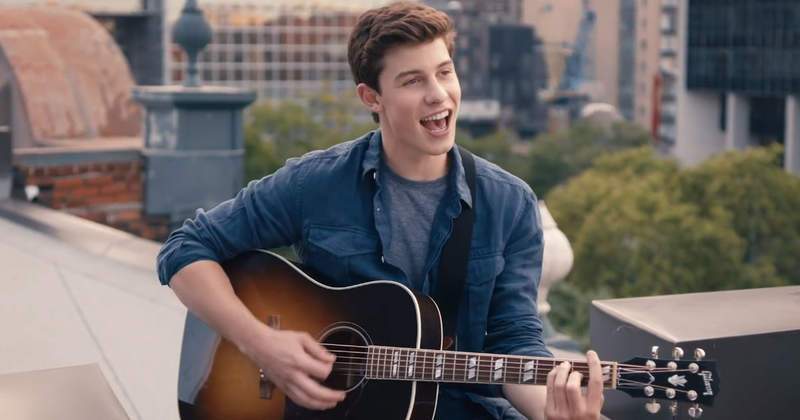 We ain't picture perfect, but we worth the picture still.—J Cole, "Crooked Smile"
Tonight I'm loving you. — Enrique Iglesias
Everything I'm not made me everything I am.— Kanye West, "Everything I am"
It's been a long day without you, my friend.— Wiz Khalifa, "See You Again"
The night is still young and so are we.― Nicki Minaj "The Night Is Still Young"
Am I more than you bargained for yet?—Fall Out Boy, "Sugar, We're Going Down"
If I was you, I'd wanna be me too.—Meghan Trainor, "Me Too"
It ain't no fun if the homies can't have none.—Snoop Dogg, "Ain't No Fun"
You could be the king but watch the queen conquer.—Nicki Minaj, "Monster"
I'm just feelin' my vibe right now. I'm feelin' myself.—Desiigner, "Panda"
Pop pop, it's show time! Show time! Guess who's back again?—Bruno Mars "24k Magic"
Take my number down, I just might hit you.—Lauren Jauregui, "More Than This"
There's always been a rainbow hangin' over your head. —Kacey Musgraves, "Rainbow"
They can't leave us hangin', no, no, not no more, best believe. —Logic, "Keanu Reeves"
I could build a castle out of all the bricks they threw at me. —"New Romantics"
Didn't they tell you that I was a savage." —Rihanna, "Needed Me"
Cheers to the freakin' weekend. —Rihanna, "Cheers"
How rare and beautiful it is to even exist. —Saturn, "Sleeping At Last"
I'll stop wearing black when they make a darker color. — "Fall Out Boys"
My friends, real friends, better than your friends. — The Carters, "Friends"
Shine on, diamond, don't make me wait another day. — Troye Sivan, "My My My!"
I'm gonna live like tomorrow doesn't exist. —Sia, "Chandelier"
Ok, ladies. Now, Let's get in formation. — Beyoncé, "Formation"
We gonna party like it's your birthday. —50 Cent, 'In Da Club'
And all the pieces fall right into place. Getting caught up in a moment, lipstick on your face. —So It Goes"
Starry eyes sparkin' up my darkest night. — "Call It What You Want"
I loved you in secret. First sight, yeah, we love without reason. —"Dancing With Our Hands Tied"
Starry eyes sparkin' up my darkest night. —"Call It What You Want"
Tell 'em that it's my birthday! —Selena Gomez, 'Birthday'
Sunshine mixed with a little hurricane. —Brad Paisley, "Perfect Storm"
Don't call me angel. You can't pay my price. —Ariana Grande, Lana Del Rey, Miley Cyrus "Don't Call Me Angel"
Love me or hate me, I swear it won't make or break me. —Lil Wayne "Love Me or Hate Me"
They say good things come to those who wait, so imma be at least an hour late. —Kanye West, "Start It Up"
I'm sorry, the old [enter name here] can't come to the phone right now…—Taylor Swift, "Look What You Made Me Do."
Ain't you ever seen a princess be a bad bitch? —Ariana Grande, "Bad Decisions"
The night is still young and so are we. ―Nicki Minaj "The Night Is Still Young"
Sun-kissed, skin so hot, we'll melt your popsicle. —Katy Perry, "California Gurls"
These are the days we'll never forget. —Avicii, "The Days"
Can't keep my hands to myself (I mean I could but why would I want to? —Selena Gomez, "Hands to Myself"
But we're the greatest, they'll hang us in the Louvre. Down the back, but who cares — still the Louvre. —Lorde, "The Louvre"
Motivational And Success Captions For Instagram
At times, we all need motivation and courage to keep going on. So, here are 40+ Motivational, successful, business-related captions to share your journey and inspire your followers.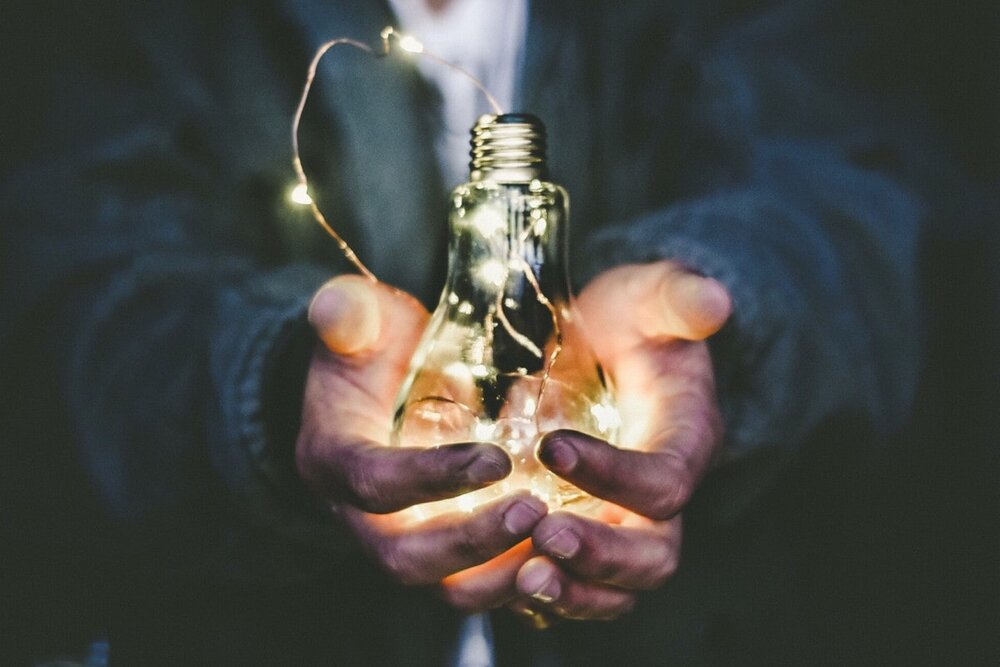 There are two types of people in life: Entrepreneurs, and people who work for entrepreneurs.
Work hard and then work harder.
Don't sell yourself short.
Always work for your own satisfaction.
Let your success make noise for you.
Never get scared of challenges.
Success is dependent on effort.
Prove them wrong.
Never give up. Fresh start and do it again.
Never let anyone pull your down.
I have to be successful because I like expensive things.
Addicted to bettering myself.
Real people don't need motivational quotes to get motivated.
All our hard work has paid off.
Every ounce of effort didn't go to waste.
Believe in your dreams.
I'm doing it for me.
The secret of getting ahead is getting started.
Never announce your moves before you make them.
Never give up. Fresh start and do it again.
Never let anyone pull your down.
Aspire to inspire.
Don't fear failure.
I'm doing it for me.
Nothing is impossible until you have the will to do it.
Productivity will do the wonders.
Direction is more important than speed.
Don't wish for it. Work for it.
You cannot change anything until you try to.
Silence is the best way to make the other one realize their mistake.
Struggles will always build up strength and determination in you.
There is no one better than you. You are unique in your own way.
Wake up before it's too late.
You cannot achieve anything till you don't try something new.
Perseverance pays… a lot!
It wasn't always easy but it's worth it.
Pursue your passion and you'll never work a day in your life.
There is no one better than you. You are unique in your own way.
Wake up before it's too late.
Addicted to bettering myself.
Cool Sassy Captions of All Times
Want a caption that makes everyone go "Aww"!! Well, check this record of captions that will give your cute picture a sassy caption of all times.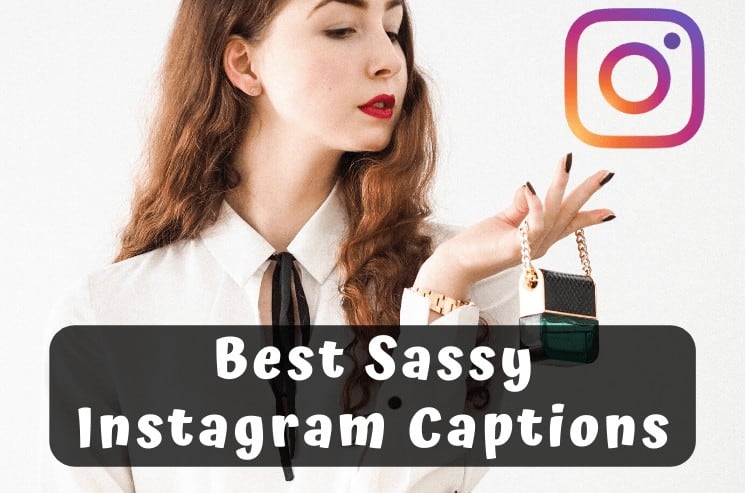 Dream big, little one!
Cute as a button, but not quite as smart.
Be the type of person you want to meet.
That's the caffeine.
Yours truly.
I do it my way.
Just because you didn't sleep does not mean that you should stop dreaming.
Keep calm and take selfies.
These are the days we live for.
No caption!
Never say never..
They told me I couldn't. That's why I did.
Be like a sea, wild, free, and beautiful.
Classy is when a woman have everything but doesn't show off.
No bad vibes!!
Find your fire!!
Stay salty.
This is my paradise.
Don't grow up… It's a trap!
Dogs are my favorite people.
Do what you love to do
The ocean made me salty
Dear, hating me will not make you beautiful.
Focus on the Good.
It isn't the well-behaved people that get written into history books.
Be a queen regent instead of depending on a king.
Be you. Don't depend on what others think about you.
Life is a b*tch sometimes. Deal with it.
I've got pretty high standards.
Everything that you do, I can do better.
Thank you, but no.
Don't stop retrievin'.
You can keep your clothes in my closet.
Might as well face it, we're addicted to love.
Act like you don't care.
If you think I am BAD than you're wrong, I am the worst.
What just happened?
Express gratitude. Regret nothing.
7 billion smiles, and yours is my favorite.
Might as well face it, we're addicted to love.
1. Feel Good Instagram Captions For Your Next Post
Having mental peace is much more important in this stressful life. And if you have something to share among your friends, even if it is a sunset that makes you happy. Go through the roll of captions enlisted below.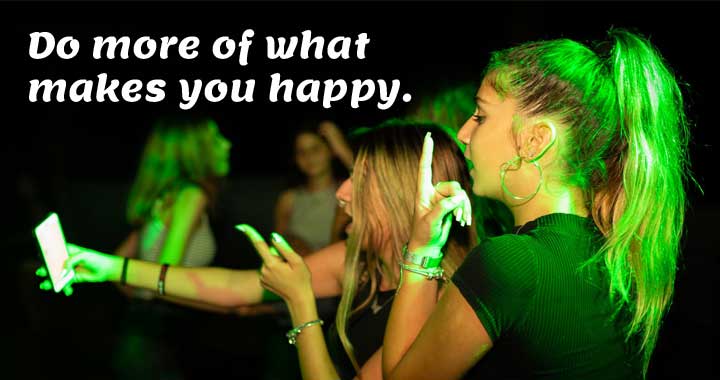 Care free!!
Pure bliss!!
I'm a sinner, you say. Well, aren't we all?
When you can't find the sunshine, be the sunshine.
Just keep your cool and your sense of humor.
Alone we can do so little; together we can do so much.
If you can't change your fate, change your attitude. -Amy Tan
A problem is a chance for you to do your best. -Duke Ellington
Blessed!!
Sunshine is on my mind.
Good vibes only!!
Be happy. It drives people crazy.
Say yes to new adventures.
Today is the best day
Livin' the dream.
When fate hands us a lemon, let's try to make lemonade.
The only real mistake is the one from which we learn nothing. -Henry Ford
It's a good day to be happy.
Focus on the good.
Stay golden.
Not a care in the world.
Do what makes you happy.
Every day may not be good, but there's good in every day.
You're like a four-leaf clover: hard to find and lucky to have.
Today's the best kind of day.
Be the type of person you want to meet.
Keep your chin up, so your crown don't slip.
Accept The Change To Change The World.
If you pray for rain. . . don't complain about the mud!
Empty pockets never held anyone back. Only empty heads and empty hearts can do that. -Norman Vincent.
My life isn't perfect, but it's the best thing that's ever happened to me.
When I'm good, I'm very, very good, but when I'm bad, I'm better. – Mae West
If I were well-behaved, I'd die of boredom. -Tallulah Bankhead
I believe in pink. – Audrey Hepburn
Be yourself. The world worships the original. – Ingrid Bergman
Struggle and survival, losing and winning, doesn't matter. It's entering the race that counts. – Pam Grier
Smile always!!
Day by day!!
Be yourself. The world worships the original.
2. Travel, Photography, Backpacking Captions For Instagram
Do you travel alot? If yes, then this section will help you with some splendid captions to show off your travel diaries with your followers. So, let's begin with some travel quotes that you can use along with your #Wanderlust journey.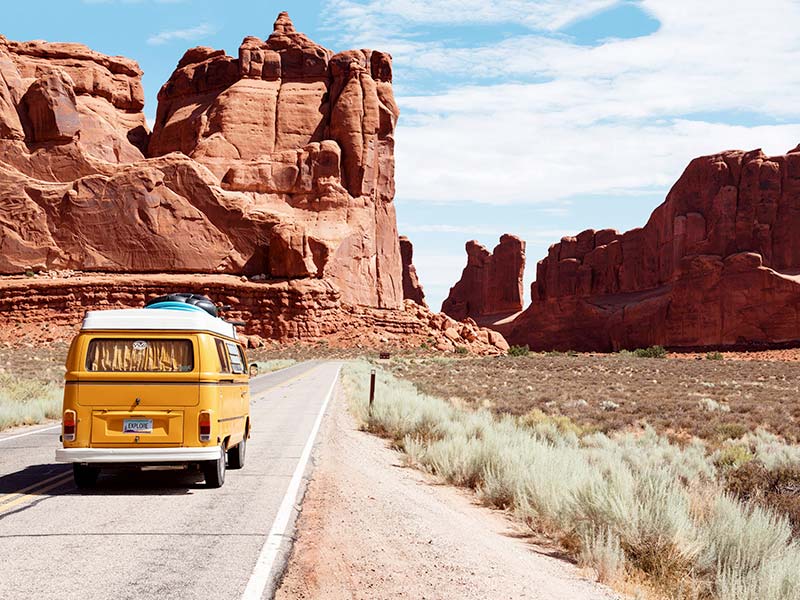 On the road again.
Catch flights not feelings.
It is not down in any map; true places never are. – Herman Melville.
Don't listen to what they say, go and see it for yourself
Lets go explore!!
I followed my heart and it lead me to the airport.
Work hard, travel harder!!
Wander often, wonder always.
Where to next?
Travel while you're still young.
Explore the world while you still can.
Jetlags don't matter.
Do what you love, and you will never be late.
Finding paradise wherever I go.
Live life to the fullest and travel.
Traveling is the best medicine for boring routines.
Wake up in paradise.
Get lost in the beauty of nature.
Be in one with nature.
Weekend getaway..
Don't spend your money on things. Spend it on experiences!
Our souls need nature.
I haven't been everywhere, but it's on my list." Susan Sontag
Wanderlust: a desire to travel, to understand one's very existence.
May these memories last forever.
Travel addict.
Road trip.
In my happy place!
I only collect one thing: stamps on my passport.
I do believe it's time for another adventure.
Discover what the world has to offer.
Guess where!!
The mountains. They call to me.
We dream in colors borrowed from the sea.
To travel is to live.
My home away from home.
Heaven on earth.
Explore the wonders of the world.
Take me anywhere.
Nature is the best therapy.
Best of Seasons Captions- Summer, Winter, Autumn!!
Listening to the rhythm of the seasons is one of the best forms of expression. You can excel at it with some witty and poetic Instagram captions. So, let's keep it simple with the listed captions below and learn a perfect way to describe the weather, be it Summer, Winter, Autumn, or Spring!!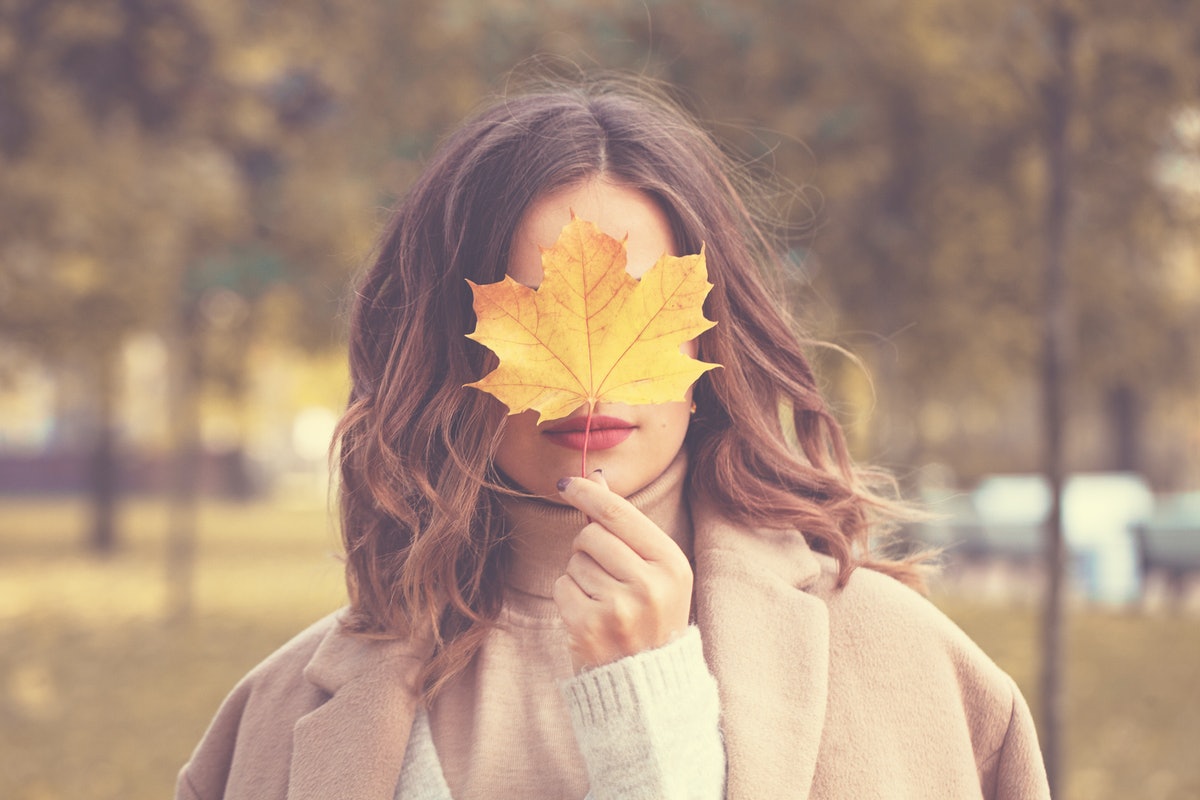 Eat, tan, sleep, repeat.
Sunkissed!!
Craving summer.
Chasing the sun.
Saltwater heals all wounds.
Tans will fade but the memories will last forever.
Life is better in a bikini.
My favorite time of year.
Girls just wanna have sun.
Giving in to pier pressure.
Comfy and cozy.
Cold weather, warm heart.
Nothing beats a good snuggle on a cold winter's night.
Keep calm and wait for the snow.
Winter wonderland.
Sweater weather is always better together.
Happiness is a hot drink on a cold day.
My favorite winter shoes are ice skates.
It's hot chocolate weather.
Sleigh all-day!!
Paradise doesn't have to be tropical.
Live life in full bloom.
April rain.
Find me in a flower field.
Live simply, bloom wildly.
Alright spring, do your thing!
Let your dreams blossom.
Hello spring.
Watch me bloom like spring after a long winter.
Where flowers bloom, so does hope.
Warm breeze & no worries.
Autumn, it's nice to see you again.
Autumn skies and pumpkin pies.
Pumpkin kisses and harvest wishes.
Autumn shows us how beautiful it is to let things go.
Pumpkins. Candles. Fuzzy socks. Coffee.
My favorite color is October.
Pumpkin spice and everything nice.
Cutest pumpkin in the patch.
You are the pumpkin spice to my fall.
I've got sunshine on a cloudy day." —The Temptations
Life is better in a sweater.
Say aloe to my little friend.
Less Mondays, more sunshine.
Spice, spice, baby.
Funny Instagram Captions
Being funny never goes out of style. In fact, if you can make your followers laugh for real with your humorous Instagram captions, you won't be needing anything else.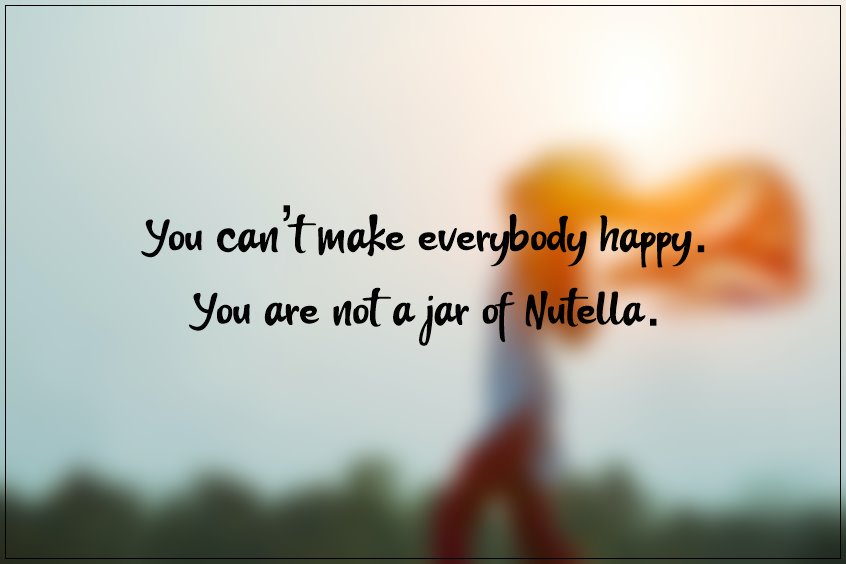 I need a six-month holiday, twice a year.
Your secrets are safe with me… I wasn't even listening.
Handle every situation like a dog. If you can't eat it or play with it, just pee on it and walk away.
I'm not lazy. I'm on energy-saving mode.
I was going to take over the world this morning, but I overslept. Postponed. Again.
I don't care what people think of me. Mosquitos find me attractive!
They say don't try this at home… so I went to my friend's home!
Being an adult is like folding a fitted sheet. No one really knows how.
I never make the same mistake twice. I make it like five or six times, you know, just to be sure.
You never realize how boring your life is until someone asks you what you do for fun.
It's Thursday, so here's my wise quote of the day… actually, I got nothing.
Sleep like no one's watching.
Sometimes I look at my boyfriend and think… Damn, he is one lucky man.
I think you are suffering from a lack of vitamin ME.
Relationships are like a walk in the park. Jurassic Park.
Reality called, so I hung up.
I'm on a date, she isn't very social.
I never make the same mistake twice. I make it like five or six times, you know, just to be sure.
What's the best way to have your husband remember your anniversary? Get married on his birthday.
He stole my heart so I'm planning revenge… I am going to take his last name.
A cop pulled me over and told me Papers, so I said Scissors, I win! And drove off.
I followed a diet but it didn't follow me back, so I unfollowed it.
For me, math class is like watching a foreign movie without subtitles.
Today is a good day for cake.
Be strong, I whispered to my WiFi signal.
Dear sleep: thanks for trying, but you can't beat surfing the net.
There's no "we" in fries.
I'm here just to avoid friends on Instagram.
I love you with all my belly. I would say heart, but my belly is bigger.
Always follow your heart, but remember to bring your brain along!
This is my pretty hungry face.
*Insert funny instagram caption here*
What if we told you … you can eat without posting it on Instagram?
That awkward moment when you're wearing Nike's and you can't do it.
There are 16-year-olds competing at the Olympics and some of us still push on "pull" doors.
50 Shades of dark circles under my eyes.
Pretty rude that it's not Friday, but ok.
Everyone is born a tad crazy, but some people more than others.
Selfie. The best one out of 50 takes.
Which essential oil is best for getting people to stop talking to you?
I tried to be normal once, worst 2 minute of my life!
Hey, I just met you, and this is crazy!
This princess needs no prince!
Torn between a snack and lookin like a snack.
My heart says yes but my mom says no!!
He said I was his type. Next thing I knew, I was donating blood.
I don't make mistakes twice. I do it a lot more.
Life status: Currently holding it all together with one bobby pin…
I came. I saw. I made it awkward.
I'm on a seafood diet. When I see food, I eat it.
Final Words
Whether you are showing off your new hairdo, a skill, an achievement, or a selfie, there is always an Instagram caption available for your picture. So, pick your personal favorite from the list or mix and match as you like. There are loads of options available in this post. Besides, you can even use these captions to create an entirely new one. If you have some other captions in your mind, do comment below!!