Telegram is an online messaging application that provides end to end encryption for users. Much like Whatsapp, Telegram also works the same way with the basic screen where you can chat with your contacts and form groups. So if you're a Telegram user and due to some random reason you want to delete your account then you have come to the right place. Here's a guide that will walk you through on how to delete your Telegram account.
Different Ways To Delete Your Telegram Account
Below are the easy ways through which you can delete your Telegram account.
1. Automatic Delete Feature
Telegram by default has a feature that will delete your account if you're inactive for a certain period of time. When you download the app it is set to 6 months. You can reduce this by heading into the settings and going into the privacy and security section there under the advanced heading the second option will say " delete my account if away for".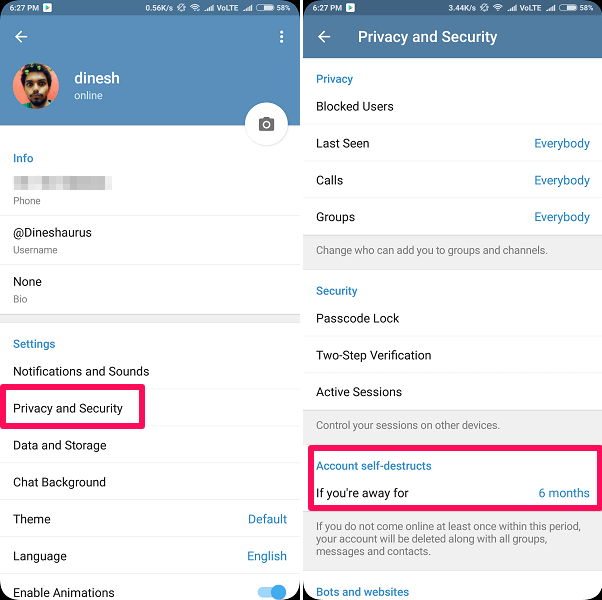 By default, it would be set for six months. You can change the time to a month, 3 months, or even a year. But whom I kidding, you want to delete Telegram account straight away, right?! Don't worry this next one is just the one for you.
2. Manual Deletion
So to delete your Telegram account manually, you would have to go to your browser and go to the Telegram Deactivation Page. Here you would have to follow a set of instructions and make sure that you have your mobile in which you have your Telegram logged in.
Step 1:
Open Telegram on your browser, this will take you deactivation page.
Step 2
Once on the page enter your mobile number with your country code. After putting the number it will send you a confirmation code that you would have to enter.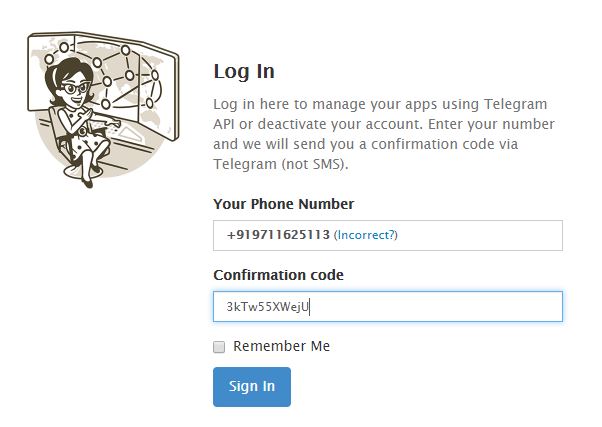 Step 3
After entering the confirmation code sign in to the page, it will take you to a page Where there would be three options, you would need to select the on that says " delete my account".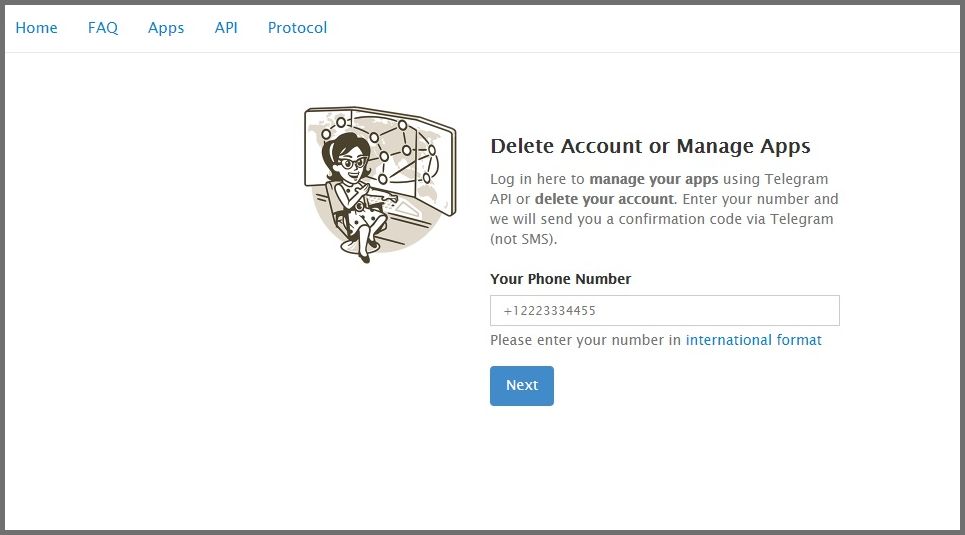 Step 4
A new page will open where there would be a warning saying that all your chats would be deleted if you delete your account which I guess is pretty obvious. Under it, there would be a filed that asks why are you leaving it is optional so you can leave it and head straight for the " Delete my account" button.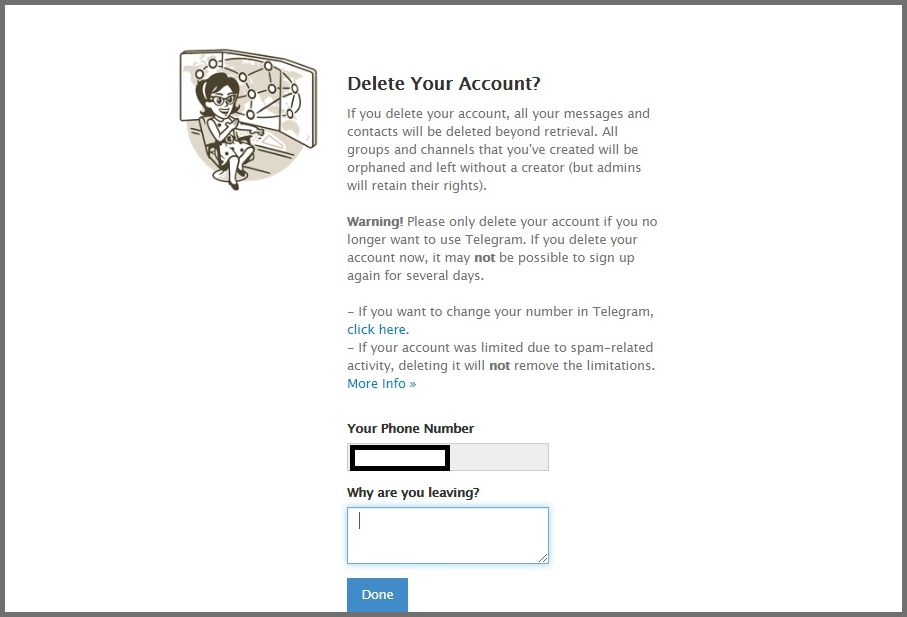 Step 5
When you click on it a pop up will come on your screen just click on "Yes, delete my account" and your account will be successfully deleted.
How To Recover Deleted Telegram Account?
Once you have deleted your account there is NO way to recover your account. This happens because once you click on "Delete Telegram Account" it is deleted from Telegram's database and once it's gone from there then you can not recover your account.
If you search for this on Google you will find different websites and apps that will claim that they will recover your account but these are all fake. Once you login to these websites they will ask you to perform a human verification which doesn't work in case of apps they would ask you to download certain apps and use for a minute or two but after you complete it the page won't work.
Export Your Data Before Deleting Telegram Account
If you delete your app, your Telegram account will no longer be in use therefore after a certain period of time your account will automatically be deleted from their database.
But before you do this you might want to export all your data so that you won't lose any important information. Here is how you can do that
Step 1
Go to the Telegram settings.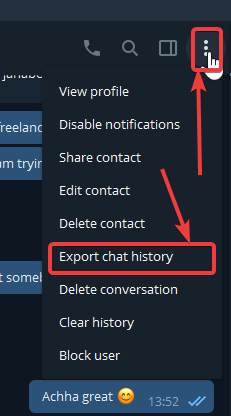 Step 2
Hit " Export Chat History ".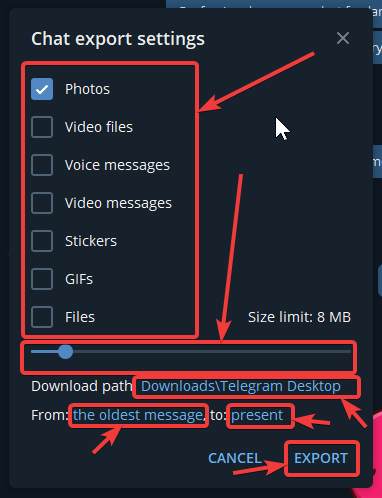 Step 3
After this, it will ask you to export chat history. You can move it in the format you are comfortable with.
Step 4
When you have saved this file you will be able to view it offline.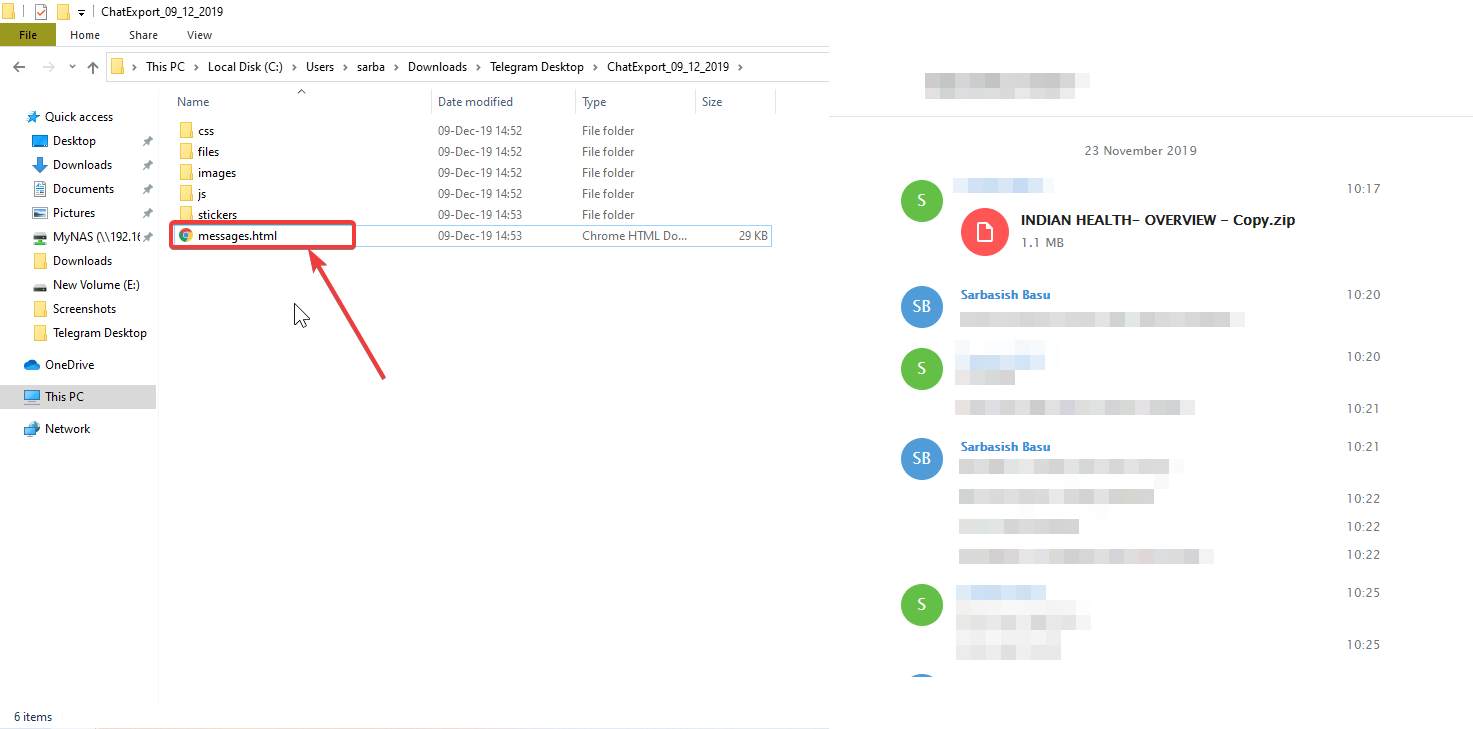 Conclusion
When you have deleted your Telegram account you can no longer use the app, without an account. If you want to join Telegram again then it takes some time to create another account after you deactivate your account.
I hope this article helped you out. Feel free to drop your questions in the comments section below.